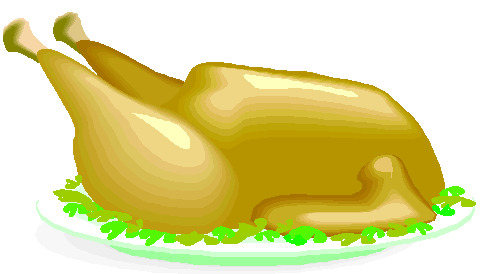 Main Dishes

Home Breads Desserts Recipe of the week

Ham and Cheese Strudel
6 Servings
You will need
4 ounces finely chopped ham

1 cup shredded Swiss cheese

1/8 tsp pepper

1 sheet frozen puff pastry, thawed

1/2 cup crumbled blue cheese

1/2 cup chopped celery

2 tblsp melted butter
Instructions
1. Preheat oven to 425 degrees. Grease a baking sheet.

2. Mix together ham, Swiss cheese, blue cheese, celery and pepper.

3. Unfold puff pastry onto a 20 inch long sheet of wax paper. Using a floured rolling pin, roll pastry into a 15 x 9 inch rectangle.

4. Spread filling lengthwise in a 5 inch strip down center of pastry sheet to within 2 inches of edges. Fold pastry over filling to enclose, folding in short sides first.

5. Place strudel, seam side down, on prepared baking sheet. Remove wax paper. Brush strudel with melted butter.

6. Bake strudel until lightly golden, 10 minutes.

7. Reduce oven temperature to 375 degrees. Bake until golden brown, 30 minutes more.

Chicken Pot Pie
6 Servings
You will need
For the crust

1 1/2 cups all-purpose flour

1 tsp salt

5 tblsp chilled butter, cut into small pieces

1 large egg

2-3 tblsp ice water

For the filling

1 tblsp butter

1 large onion, finely chopped

1 1/2 cups whipping cream

1/2 cup chicken broth

2 tblsp all-purpose flour

2 tblsp cornstarch

1 1/2 tsp paprika

1 cup frozen sliced carrots

1 cup frozen peas

4 cups cooked chicken, shredded
Making the crust
1. In a large bowl, combine flour and salt. Using a pastry blender or 2 knifes, cut butter into flour mixture to form coarse crumbs.

2. Beat together 1 egg and water. Add to flour mixture, mix until a soft dough forms. Shape into a disk and wrap in plastic wrap; chill for 1 hour.
The Filling
1. Preheat oven to 400 degrees. In a large skillet, melt butter over medium heat, add onion. Sauté for 5 minutes.

2. Whisk together cream, broth, flour, cornstarch and paprika, add to onion mixture. Whisk until thick.

3. Add carrots, peas and chicken to cream mixture, mix well. Pour into a 9 inch deep dish pie pan.
Assembling and Baking
1. On a lightly floured surface, roll out dough into a 12 inch circle. Place on top of filling, trim excess dough. Flute edges of pie.

2. Bake until filling is bubbly and crust is browned, about 30 minutes.

Shrimp Thermidor
Makes about 6 servings

You will need
2 pounds shelled & de-veined shrimp
3 Tbls minced shallots or scallions
6 Tbls butter or margarine
6 Tbls flour
3/4 tsp salt
1/2 tsp powdered mustard ( or just under 1/2 tsp regular yellow mustard )
A pinch of cayenne pepper
1 cup of milk
1 cup of shrimp cooking water
3 egg yolks, lightly beaten
1/3 cup grated Parmesan cheese


Instructions

1. Boil shrimp according to basic method, then drain, remember to save 1 cup of water for your sauce. Set shrimp aside while making your sauce.

2. Stir-fry shallots in butter in the top of a large double boiler directly over moderate heat for 3 to 5 minutes or until limp.

3. Blend in flour, salt, mustard and pepper, slowly add milk and shrimp water.

4. Heat -stir until thickened and smooth. Briskly mix 1 cup sauce into yolks, then return to pan. Set over simmering water and stir 1 to 2 minutes until no taste of raw egg remains.

5. Preheat oven to 425 degrees.

6. Spoon 1/2 to 3/4 cup of sauce into an un-greased 2-quart baking dish or shallow casserole. Arrange shrimp in sauce and top with remaining sauce. Sprinkle with Parmesan. Bake, uncovered, 10 to 15 minutes until hot but not boiling, then broil 5 to 6 inches from heat for about 2 minutes to brown. Serve with boiled or steamed rice.

Baked Salmon With Dill Garlic Butter

Serves 4

You will need



2 pounds Salmon, fresh, fillets
1/2 cup White wine
8 Tablespoons Butter, cold, cut into 16 pieces
1 teaspoon Dill weed
1/2 teaspoon Garlic, minced


Instructions


Pre-heat the oven to 375. Bake the salmon for 12-15 minutes. The fish should be firm but not dry. Place the wine, dill and garlic in a small saucepan. Reduce on high heat until almost dry. Remove from the heat and quickly add all the butter while whisking briskly. When all the butter has been incorporated, allow to rest 10 minutes. Spoon over the hot salmon

ITALIAN STUFFED MUSHROOMS

4 servings

You will need

1. 8 large mushrooms

2. non stick cooking spray

3. 2 ounces lean ground pork

4. 1/2 cup whole wheat bread crumbs

5. 1 egg white

6. 2 green onion, finely chopped

7. 1 teaspoon dried oregano leaves

8. 1/4 teaspoon ground black pepper

9. 1/2 cup (2 ounces) shredded mozzarella cheese

Instructions

Preheat oven to 350 degrees. Remove stems from mushrooms; set caps aside. Finely chop stems. Spray small nonstick skillet with cooking spray. Heat over medium heat until hot. Add chopped stems and pork. Cook and stir 5 minutes or until pork is no longer pink. Combine pork mixture, bread crumbs, egg white, onions, oregano and pepper in medium bowl until well blended. Spoon pork mixture evenly into mushroom caps, mounding slightly in center. Place caps on baking sheet. Sprinkle cheese evenly over tops of mushrooms. Bake 15 minutes or until mushrooms are tender. Serve immediately.